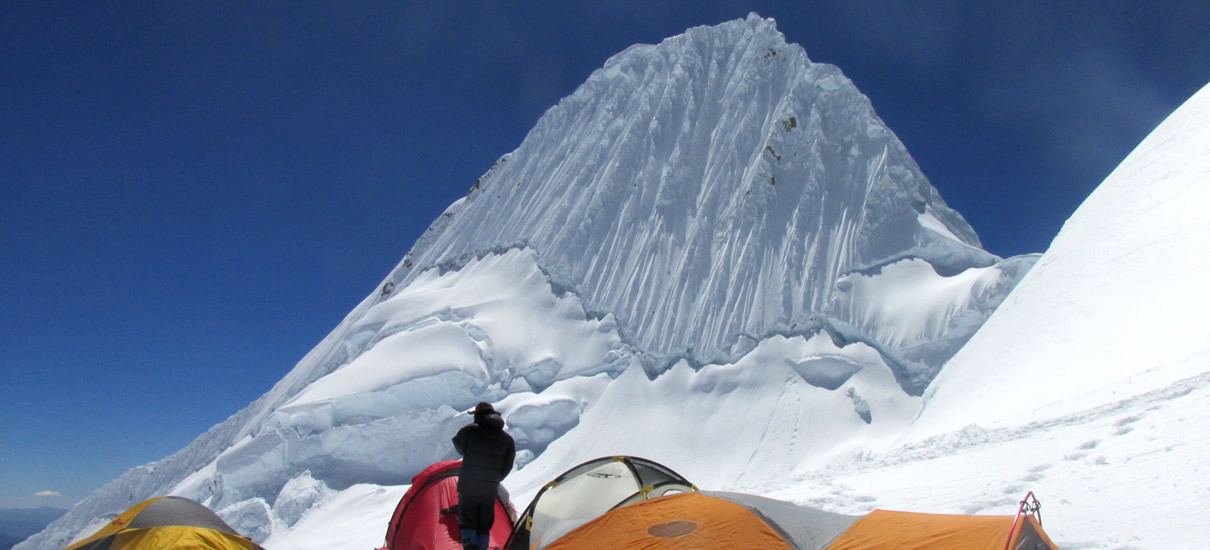 Nevado Alpamayo was nominated "the most beautiful mountain in the world" during a 1966 photographic exposition in Munich, Germany. When viewed from Quebrada Santa Cruz, most people would disagree and wonder how it could carry this lofty title. However, in the early days, Alpamayo ("muddy waater" in Quechua) was approached from the north, via Quebrada alpamayo. When viewed from this valley, the pesk looks like a perfect snow pyramid.
First ascent: June 20,1975, by C. Ferrari and Party.
Elevation gain: 400m from the botton of the face.
Grade: AD+
Time: 4 – 6 hours from the botoon of the face to the Summit, in good conditions.
Equipment: helmet, crampons, 2 technical axes, 3 – 4 pickets, 8 ice screws and 2 ropes (60m or longer).
Timing: 6 night / 7 days
Climbing Alpamayo is an amazing pyramid of ice and snow flutings, once voted to be the most beautiful mountain in the world. The climb to the summit is steep & technical, and is suitable for experienced climbers only. We advise warm-up climbs on one or two peaks beforehand.
GETTING THERE:
Minimum 2 nigths in Huaraz.
Huaraz, Santa Cruz Trek 7 days.
Huaraz, Llanganuco Valley and Vaqueria 10 days.
Huaraz, Hualcayan, Alpamayo Trek 12 days.
Alpamayo is one of the most beautiful ice faces of the Andes. It is located more remotely than most other peaks in Cordillera Blanca.
Nowadays Alpamayo is well-known and was even elected the most beautiful mountain in the world. It is not the difficulty that inspires the climbers but it is magnificent setting among the everlasting snow capes of the Cordillera Blanca, 6000 meters above sea level.
Unfortunately, this makes the mountain very popular and sometime overcrowded. It can transform a beautiful 5 hours climb, when alone, into a nightmare of 15 hours with all the trafic when crowded. It is not unusual to find 5 to 8 partys camping at the col, waiting in line for a chance to scratch the face.
One of the world is most impressive and memorable mountains, Alpamayo is a steep fluted wedge of snow and ice. Most parties content themselves with a climb to the summit ridge because traversing to the true summit is both difficult and serious.
Man has always approached nature and the unknown in a spirit of adventure and curiosity, rejecting the usual comforts and with the objective of climbing to the top of the mountain to find there the peace and freedom of unlimited space.
Never climb alone or beyond your ability and knowledge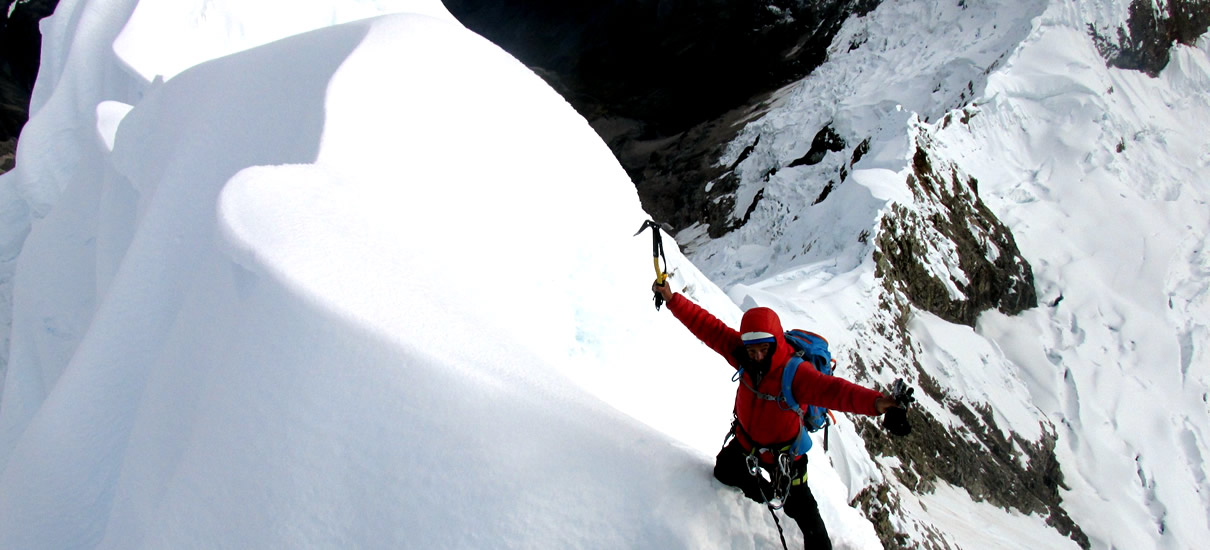 NEVADO ALPAMAYO and QUITARAJU (6,040):
Timing: 10 days
Quitaraju is situated south-eastwards of Alpamayo. Obviously Quitaraju does not get half as much attention as Alpamayo. It is a really nice mountain with great views of it´s south face, the Alpamayo, Artesonrajo, Huascaran(s), Chopicalqui The easiest route is W ridge, graded AD, but very very long, sustained and steep in places. North face is really nice, being graded D, 700m, inclination of about 55°degrees. Different variants have different grades, so a tougher climber could find some 60-70 degree climbing going some 50m left or right from the arete in upper part of the face.
Quitaraju is a relatively easy 6,000m peak. Two classics beckon from its north and west sides. If you are attempting Alpamayo, you should consider Quitaraju, as well. It provides a day of adventure, along with outstanding views of Alpamayo and Santa Cruz Grande.
Huaraz, at the foot of the Cordillera Blanca, is an open door to the paths and summits of the Cordilleras; it is also an ideal and lively base.
PERU AMAZING ADVENTURES ADVICE
_ Be sure to take out insurance (repatriation).
_ Acclimatize by gaining height slowly, you won´t gain any time by going too fast
_ Take time over things so you don´t forget the essentials.
_ Have a good trip and many adventures, the summit and paths are waiting
And last but not least we would like to mention that the success of our trip depends to a large extent on unpredicted events such as weather condition or personal reaction, so an adventurous spirit and good will are essential for the success of the expedition.