PISCO (5,752m).
Southwest Slopes (Normal Route)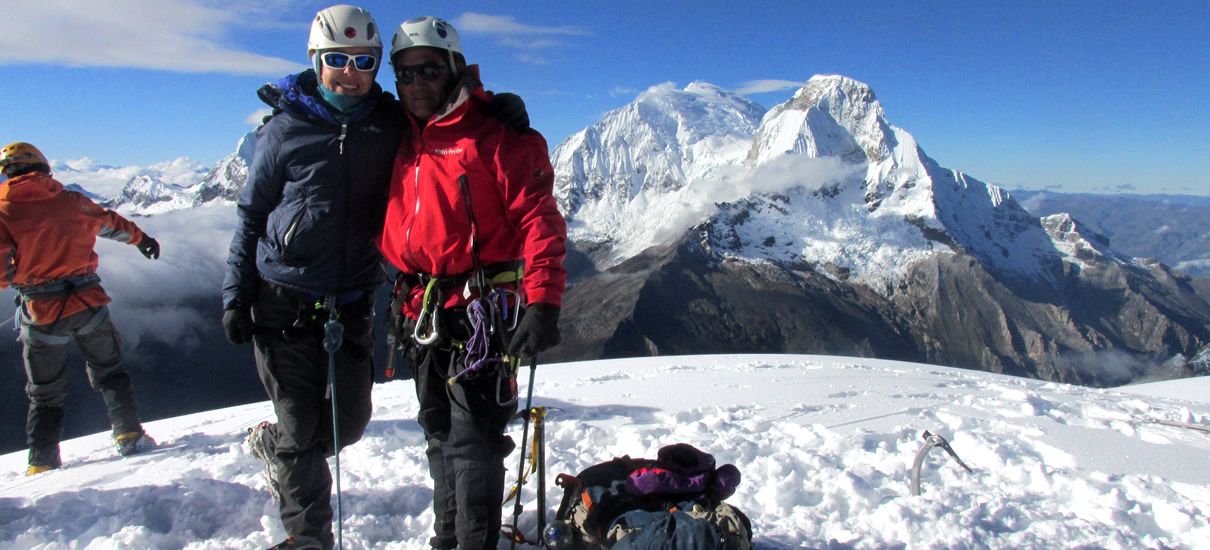 Pisco is the perfect peak for novice and expert alike. The peak can be climbed or skied. Either way, be sure to do it on a clear day to take in the incredible 360-degree views of the range.
First ascent: Yuly 12, 1951, by C. Kogan, G. Kogan, R.Ceninger, M. Lenoir.
Elevation gain: 1,072m. From base camp; 850m. From moraine camp.
Garde: PD
Time: 3 – 4 days from Huaraz.
Pisco is also a superb preparation climb for those tackling the big peaks. From the summit feel like you are on top of the world. Although graded as a moderate climb, the high altitude and long and in places steep snow slopes do make Pisco a physically demanding climb. Good fitness is required.
Donkeys carry equipment to Base Camp. Porters carry tents, food, climbing rope up to Morena Camp and back, but you need to carry your own personal gear.
Santa Cruz trek and Nevado Pisco Climb 8/9 days.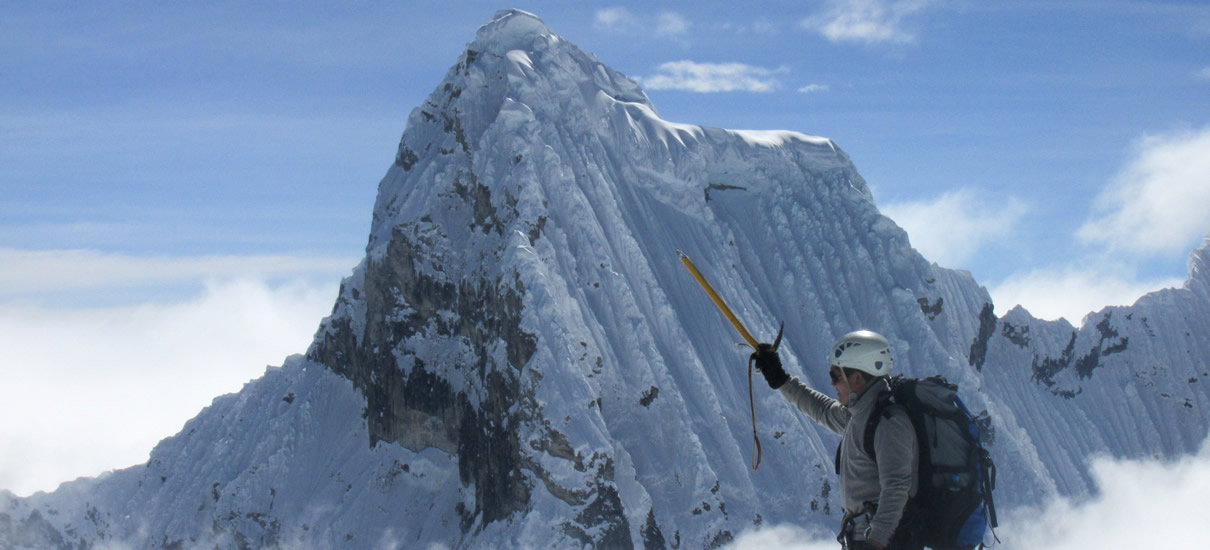 PISCO AND YANAPACCHA CLIMB 5 - 6 days.
Yanapaccha is located near the head of Quebrada LLanganuco, not far from Pisco and Chacraraju.
The name Yanapaccha is a Quechua word means black waterfall, although the usual west face route is anything but black. Perhaps the name relates to its appearance from the Portachuela Llanganuco, which would be the opposite face. Yanapaccha would certainly attract all the attention for a good acclimatization peak.
Yanapaccha is only slightly lower than Pisco and moderately harder to climb. The view from its summit is one of the most spectacular found anywhere in the range. A great Outing. I would add that Yanapaccha could never draw the crowds that Pisco does because of its increased difficulty and because there is much less camping space at its base.
The lower portion of the glacier on Yanapaccha is a great area to learn and practice glacier skills and rope team procedure. The upper slopes of Yanapaccha are great for graduating from glacier walk-ups to peaks that require front-pointing and other steep-slope climbing techniques. The upper slopes of the west face involve extended climbing at about 50 to 60 degrees.
CHOPICALQUI 6,354m CLIMB
Southwest Ridge (Normal Route)
Is located in the center of the Cordillera Blanca. Most expeditions start in Huaraz.
Chopicalqui is sometimes dubbed the easiest 6000 peak in the Cordillera Blanca, with good reason as its south-west ridge route is only rated around AD. This makes it very popular and it can be crowded at times. However, more than one party has been turned around by snow up to the chest on the last portions of the climb, and the route gets out of condition after each heavy snowfall.
Due to its proximity to the two Huascaran peaks, Chopicalqui can seem less significant than actual height would warrant, especially when seen from Huaraz. It is sometimes called the Eastern Huascaran summit. The climb offers spectacular views of neighboring summits Huandoy, Chacraraju, Pisco and Huascaran, and most of the range is visible from the summit
Ascent Chopicalqui 4 - 5 days:
1 day.- Huaraz - chopicalqui moraine camp.
2 day.- Moraine camp - chopicalqui one camp.
3 day.- One camp - summit - moraine or base camp.
4 day.- Moraine or base camp - Huaraz - hotel.
Huaraz, at the foot of the Cordillera Blanca, is an open door to the paths and summits of the Cordilleras; it is also an ideal and lively base.
PERUAMAZINGADVENTURES ADVICE
- Be sure to take out insurance (repatriation).
- Acclimatize by gaining height slowly, you won´t gain any time by going too fast
- Take time over things so you don´t forget the essentials.
- Have a good trip and many adventures, the summit and paths are waiting for you.
And last but not least we would like to mention that the success of our trip depends to a large extent on unpredicted events such as weather condition or personal reaction, so an adventurous spirit and good will are essential for the success of the expedition.