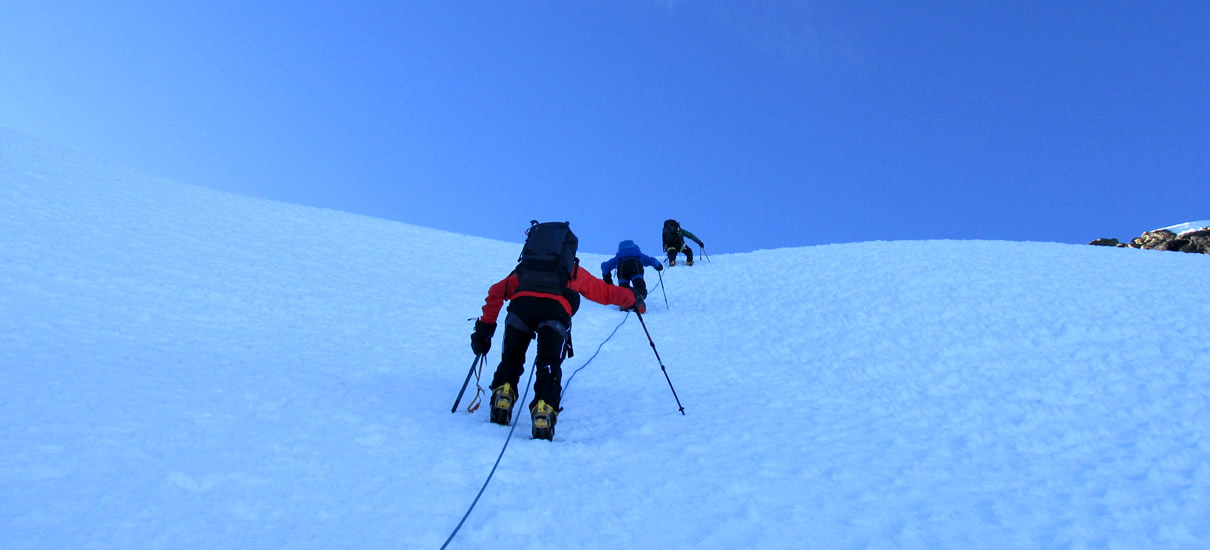 Peru Amazing Adventures Accurate Information About Climbing And Trekking In Shumaq Hirka Cordillera Blanca, Cordillera Huayhuash, Raura, Cusco, Puno, Arequipa And Bolivia, Ecuador
For those who have had several days of ice climbing instruction, and are interested in furthering their skills for more difficult ice climbs, alpine ascents, or developing leading skills we offer a 5 days Intermediate Ice Climbing course.
This program begins with a brief review of introductory techniques but rapidly progresses to advanced levels of instruction in areas such as improving efficiency and skill on steep ice, learning mixed climbing techniques like "dry tooling", learning the mental and physical skills to become a lead climber, or learning systems for multi-pitch climbing. This ice climbing course commonly utilizes the Vallunaraju Ice Part for some or all of the instruction. Depending on weather, conditions, and other group factors we may also attempt to climb in the Skylight Area.
Intermediate Ice builds upon the skills learned in Introduction to Ice. We begin with a brief review of introductory techniques before focusing on the techniques used to efficiently climb steep ice (WI 4-5), including the advanced topics of ice screw placement, anchor construction, mixed climbing techniques, and lead climbing. Instruction also covers avalanche awareness for ice climbers, and techniques for multi-pitch ice climbing. If conditions permit, we use the routes in the San Juan backcountry to hone ice climbing skills. Many climbers choose to stay an extra day or two to tackle some of the area's backcountry classics after this course has been completed!
Huaraz at the foot of the Cordillera Blanca, is an open door to the paths and summits of the Cordilleras; it is also an ideal and lively base.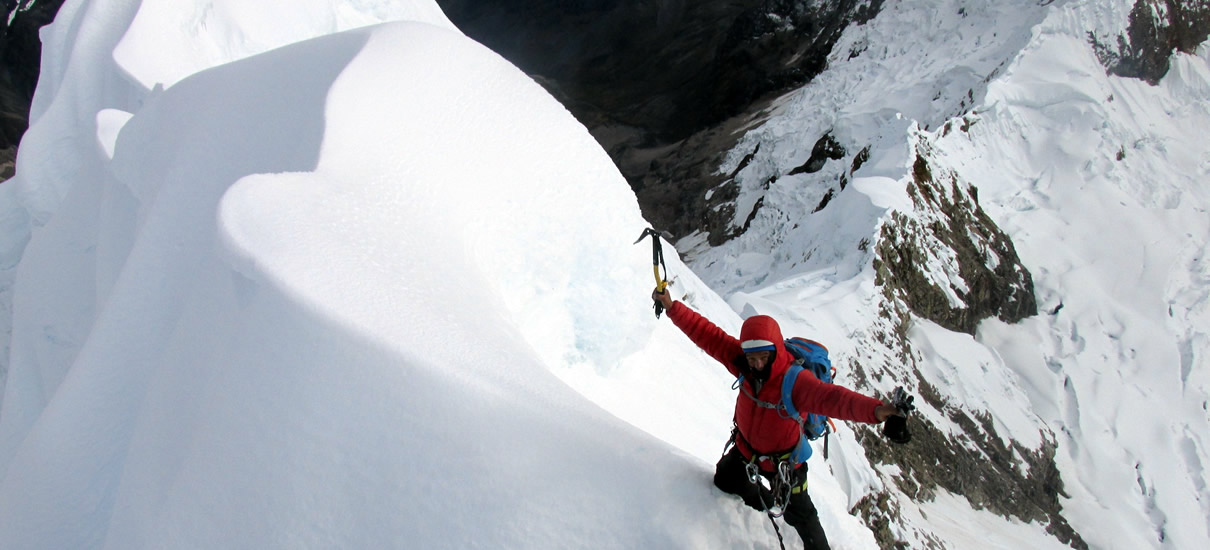 PERU AMAZING ADVENTURES ADVICE:
- Be sure to take out insurance (repatriation).
- Acclimatize by gaining height slowly, you will not gain any time by going too fast
- Take time over things so you don not forget the essentials.
- Have a good trip and many adventures, the summit and paths are waiting for you.
And last but not least we would like to mention that the success of our trip depends to a large extent on unpredicted events such as weather condition or personal reaction, so an adventurous spirit and good will are essential for the success of the expedition.
INSURANCE
We strongly recommend the purchase of an insurance plan to protect you from the unexpected. Below you will find several insurance resources. We are not experts on travel insurance and therefore ask that you please consult the insurance company with any specific questions. Examples of coverage available for adventure travel are outlined below.
If you choose not to purchase insurance, you assume full responsibility for any expenses incurred in the event of a medical emergency and/or evacuation, as well as for trip cancellation, lost luggage, etc.
Contact us if you need any further information, please.