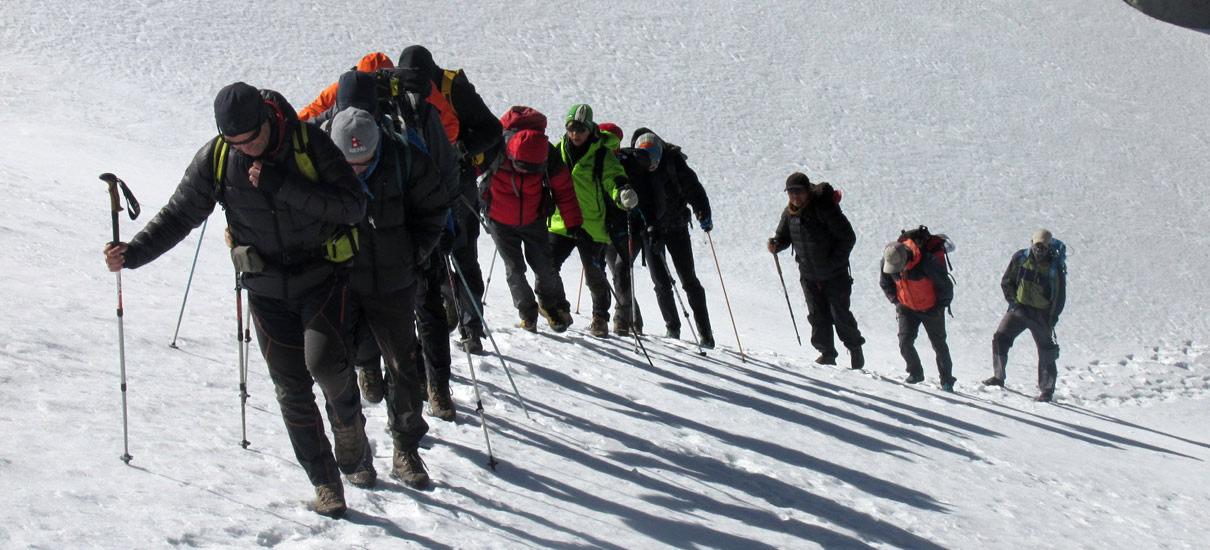 Peru Amazing Adventures Accurate Information About Climbing. Trekking and climb instruction course In Shumaq Hirka Cordillera Blanca, Cordillera Huayhuash, Raura, Cusco, Puno, Arequipa, Bolivia and Ecuador.
The course outlined below are general only. We will "tailor" make a course for you depending on your level of experience and wich skills you may particulary wish to practice, and olso the mix between rock and ice climbing that you would like and the number of days that you have available
Build upon the skills learned in the Ice Axe Arrest class. We will go more in-depth with ascending and descending on snow, the rest step, pressure breathing, step-kicking, traversing steep slopes and route finding. Then we will harness up and cover the basics of roped climbing techniques, including experienced Guide, rope team arrest, rope management, running belays, snow anchors and snow anchored belays.
Getting Started: Ascending
Before getting into the finer points of climbing snow, it is important to see the big picture. Unlike rock climbing, where the number and quality of hand and footholds is fixed, improving your steps and manufacturing protection placements is what snow climbing is all about. Falling while rock or ice climbing often has serious consequences, which is why people use ropes. On snow slopes climbers normally travel without ropes. This is due partly to the terrain itself, but also to the many options available for protection and for climbers to modify the snow to make it easier to climb. Stay safe by following this progression of ways to protect yourself while climbing.
1. Choose the correct technique for your feet and kick good steps. Good footwork is your first and most important line of security. Use your ax for balance only, not to hold your weight.
2. When your steps feel less secure (or the consequences of falling increase), use your ax as a third point of security by either jabbing the pick or the spike into the snow using one of the techniques outlined in Chapter 3, Using Your Ice Ax. Drive the pick or spike deep into the snow and keep a good grip so that if you slip, your upper body and ax prevent you from sliding.
3. When it becomes too difficult to kick steps, put on crampons. Use your ax as a point of balance or for support.
4. If crampons are not an option, or the section of firm snow is short, cut steps with your ice ax.
5. If your feet are sinking deeply and your ax is not able to gain purchase in unconsolidated snow on a steep slope, your primary concern may be an avalanche. Move to firmer (and preferably lower-angle) snow immediately.
6. If the area of snow you are attempting to cross is steeper than you are comfortable with and you do not have crampons, descend and find a different route. If some but not all members of your group feel uncomfortable climbing the slope, one option is to have those members belayed up the slope by a person who has climbed ahead and created an anchor.
Huaraz at the foot of the Cordillera Blanca, is an open door to the paths and summits of the Cordilleras; it is also an ideal and lively base.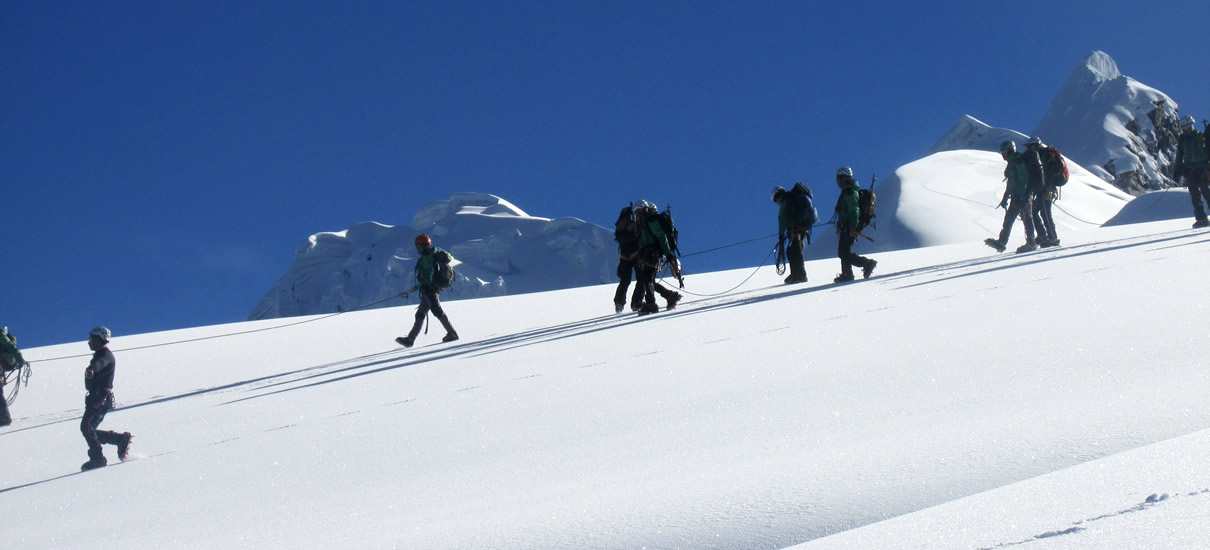 PERU AMAZING ADVENTURES ADVICE:
- Be sure to take out insurance (repatriation).
- Acclimatize by gaining height slowly, you will not gain any time by going too fast
- Take time over things so you don not forget the essentials.
- Have a good trip and many adventures, the summit and paths are waiting for you.
And last but not least we would like to mention that the success of our trip depends to a large extent on unpredicted events such as weather condition or personal reaction, so an adventurous spirit and good will are essential for the success of the expedition.
Contact us if you need any further information, please.
INSURANCE
We strongly recommend the purchase of an insurance plan to protect you from the unexpected. Below you will find several insurance resources. We are not experts on travel insurance and therefore ask that you please consult the insurance company with any specific questions. Examples of coverage available for adventure travel are outlined below.
If you choose not to purchase insurance, you assume full responsibility for any expenses incurred in the event of a medical emergency and/or evacuation, as well as for trip cancellation, lost luggage, etc.