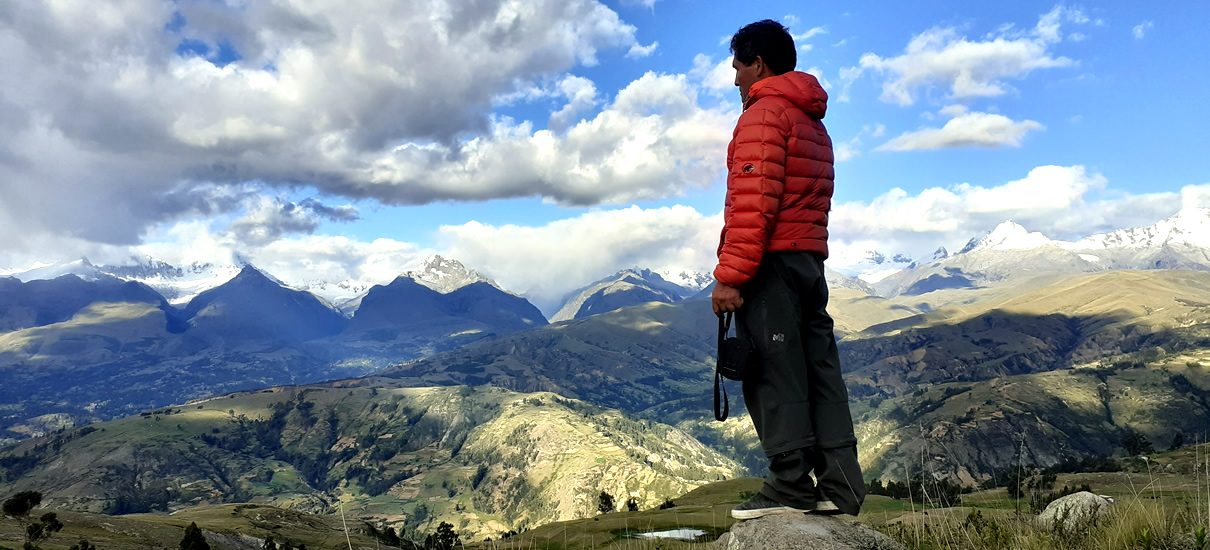 Cordillera Negra, range of the Andes Mountains in west-central Peru. It extends for about 110 miles (180 km) southeast from the mouth of the Santa River and rises to an elevation of 14,764 feet (4,430 metres). The upper Santa River Valley, also known as the Callejón de Huaylas, separates the Cordillera Negra from the Cordillera Blanca, a range of permanently snowcapped mountains to the east. The mountains of the Cordillera Negra are without snow, hence their name, meaning "black."
ALTERNATIVES ROUTES:
Recuay- Anta Cocha, Wilca Cocha, Purucuta gully - Main road to Punta Callan 4 days.
Recuay- Collawasi, Santa Catalina, Willca cocha, Condor huain, Japrucocha or C. Japrujirca 4622m. 3 days.
Wilca cocha, Purucuta gully, Punta Callan, C. Japrujirca 4622m.2 days
Punta callan, Japrucocha and C. Japrujirca 1 day

Easy down, by car go up to Punta callan, from there you get down ancestral trail to Urpay. It takes you about 3 to 4 hours TO CHOOSE, Cordillera Negra biking, this depends on experience.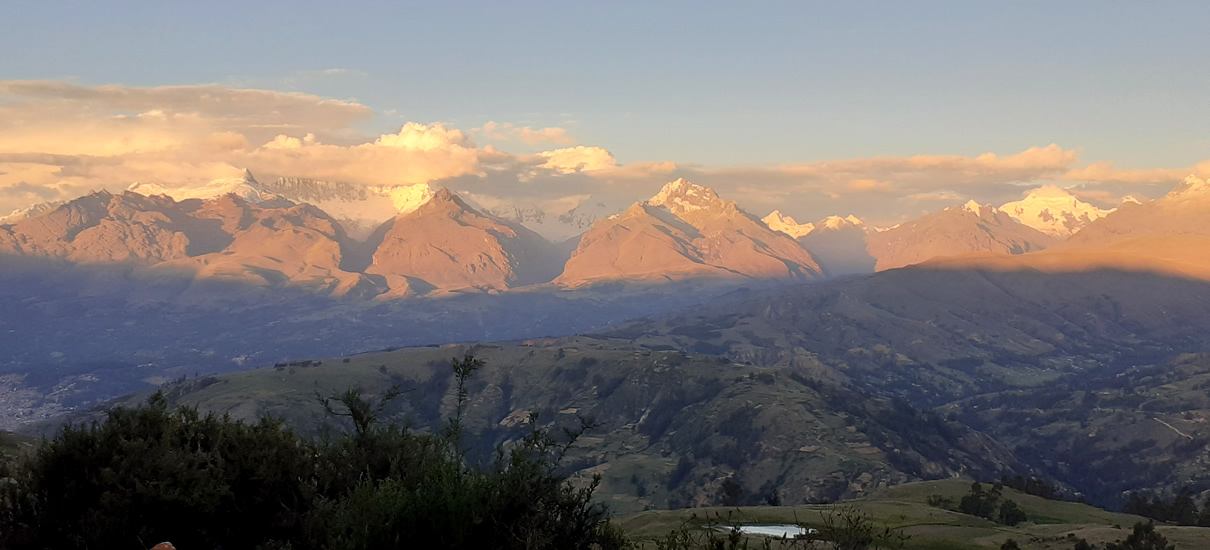 A delightful easy hike which offers spectacular views over the entire range of the snowcapped Cordillera Blanca. First we travel on a new road which winds its way up through many small villages to the pass Punta Callan at 4225m from where there are unequalled views of the peaks, glaciers and valleys of the Cordillera Blanca.
We then hike down, easily follow local village trails all the way downhill, passing by traditional village houses and farms and can enjoy seeing the local traditional way of life.
In July and August it is harvest time and everyone is busy harvesting and gathering crops. It is an easy 4 hours walk down to village where our vehicle will be waiting to take us back to Huaraz.
For those not wishing to hike, we can take the car to the saddle where we can appreciate the amazing views of the Cordillera Blanca mountains, of Huaraz and also out to the Pacific coast and then return to Huaraz. I am sure you are going to have a great day. Hiking distance approx. 10kms Panoramic view glorious Cordillera Blanca with Peru amazing adventures.
In Cordillera NegraTrekking. Strikingly beautiful landscapes. To get a good photo of Huaraz is recommended go up around 2 pm when the shadow of the Cordillera Negra is not on the town yet. You can make your trip as fantastic as you want either going down the road or along the dusty road. Cordillera Negra on the other side of the valley offer some great day hiking and biking. Routes often begin up in high-altitude grasslands and follow trails that have been used for centuries, passing Andean villages, old bridges, creeks, and fields along the way. There is a range of difficulty for bikers, from broad traverses to dodgy, down slope single-track, and the views of the glaciers and snowy peaks are like something out of a fairy tale. On Cordillera Negra trekking, you will see panoramic view of glorious cordillera Blanca with strikingly beautiful landscapes Punta Callan is located approx. 4225 meters high and is a beautiful place considered a gazebo, located in the Cordillera Negra, has a spectacular view, as we can see almost the entire Cordillera Blanca, some pleasant rural scenery and down the city of Huaraz.
We do downhill biking is an adventure or a walk for acclimatization is easier for the whole family (children and adults). Getting there to this point we must take a colectivo or private car. It take us about 45 minutes to reach Callan Punta pass where we find hill, from here we have a beautiful view of the Cordillera Blanca with its many glaciers. Descend an ancestral road with a panoramic view of the valley, an impressive view of a wide area of cordillera Blanca you will have a brilliant time. A breathtaking panorama of mountains and Huaraz city, you come down along farmland and wildlife, we can see local people with their natural life.