At 22,205 feet. Huascaran sur is the highest mountain in Peru. It is truly a big mountain, creating its own weather. The Garganta route provides a lot of glacier travel and big crevasses, along with unavoidable avalanche hazards. Get fit and acclimatized on other peaks, then attempt Huascaran, fast and light, in only 6 or 7 days.
First Ascent: July 20, 1932, by H. Bernard, P. Brochers, E. Hein, H. Hoerlin, E. Schneider.
Elevation gain: 3,668m. From Huaraz; 750m from camp 2.
Grade: PD + AD-
Time: 6 - 7 days roundtrip from Huaraz, depending upon acclimatization.
Equipment: helmet, crampons, 2 tchnical axes, 2 - 3 pickets, 4 ice screws and rope.
Some technical climbing / very physically demanding
Huascaran is a snowy massif, located in the Western Codillera of the Peruvian Andes and the highest mountain situated in the Region tropical. It is the principal objective of many of the climbers that visit the Cordillera Blanca Peru.
Huascaran is the fourth highest Mountain in the Western Hemisphere after Aconcagua, Ojos del Salado, and Monte Pissis, the Mountain was named after Huascar, a 16th-century Incas emperor who was the sapa Inca of the Inca empire
In the past Huascaran has not been an especially technical mountain to climb, but in recent years changes to the glacier have made the going more difficult.
This combined with the high altitude makes Huascaran a very physically demanding mountain to climb. Some years there are large crevasses on Huascaran which can be difficult to pass, or which require an alternative route to be found. Also, there can be some sections of steep climbing on hard ice in certain conditions.
We recommend that clients have good basic climbing skills to climb Huascaran.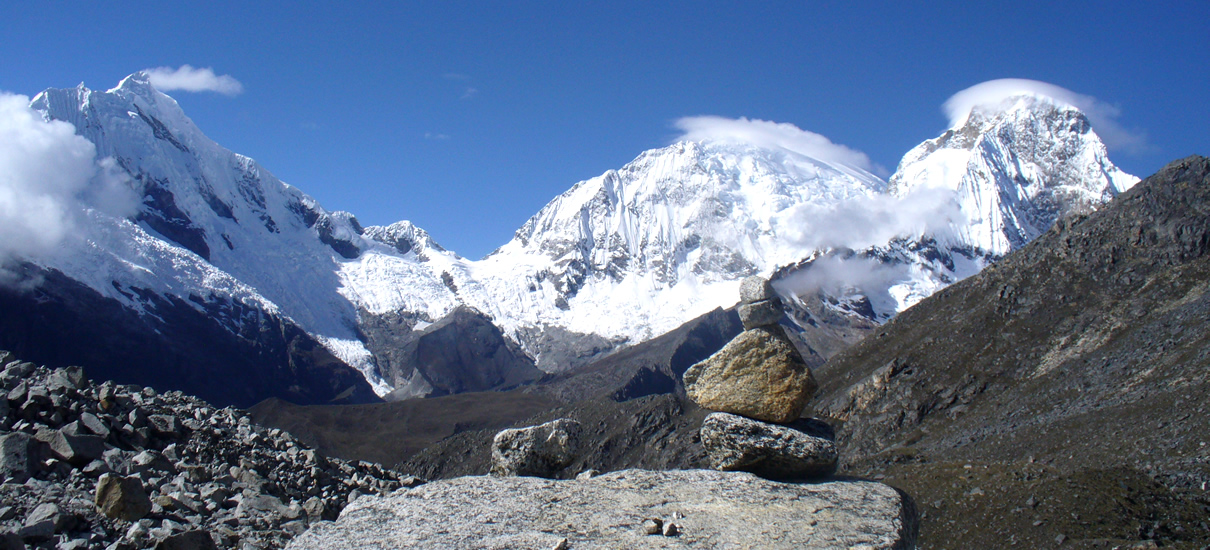 THE SHIELD (ESCUDO)
GRADE: D+
Follow the Garganta route until you reach the top of the Candeletta. To reach the bottom of the Shield, climb up and slightly right. The top of Huascaran Sur is a big place with many crevasses. You can easily get lost or fall into a hidden crevasses. Remain roped together and keep your bearings.
Huaraz, at the foot of the Cordillera Blanca, is an open door to the paths and summits of the Cordilleras; it is also an ideal and lively base.
PERU AMAZING ADVENTURES ADVICE:
- Be sure to take out insurance (repatriation)
- Acclimatize by gaining height slowly, you won´t gain any time by going too fast
- Take time over things so you don´t forget the essentials.
- Have a good trip and many adventures, the summit and paths are waiting for you.
And last but not least we would like to mention that the success of our trip depends to a large extent on unpredicted events such as weather condition or personal reaction, so an adventurous spirit and good will are essential for the success of the expedition