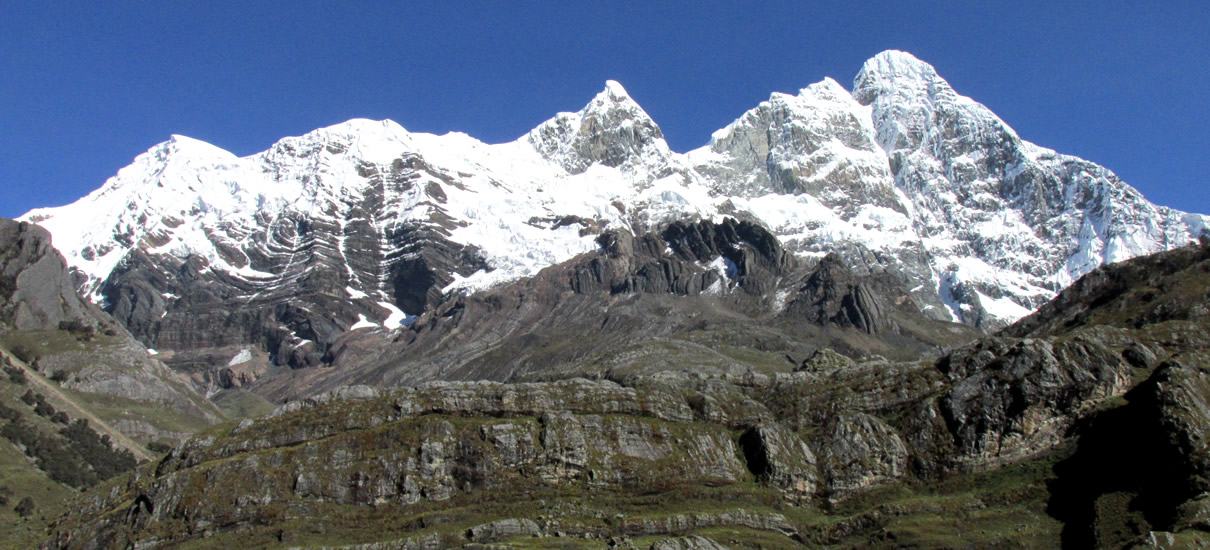 A magical journey into a remote South Cordillera Blanca.
Carhuascancha is one of the most new spectacular Trekking in the Cordillera Blanca and Konchukos valley it is long with many Lagoons and other lateral Quebradas to explore. The views of the east face of Huantzan, San Juan, Maparaju and Cayesh are breathtaking and best of the all gets few visits.
Go Carhuascancha to clean your mind and soul of all the impurities of the city life by escaping on trekking here where big mountains, Lagoons, Creeks are and rule natural of the birds.
Timing: 6 days
Grade: Moderate
Maximum Height: 4,850m Castillo Pass
Llama Trek Option available for this trek! Mix a remote trekking experience with local culture and history If you want to escape from busy tourist trails and experience the magnificent beauty of nature in the mountains almost untouched by man and then the traditional living and culture of the warm and welcoming mountain people, then this is the trek for you.
This program can be modified depending on a clients requirement. Olleros to Carhuascancha trekking route is a magical journey into a remote and beautiful unspoiled area of the Cordillera Blanca South and Conchucos Sector not known for many other trekking groups. We follow an ancient Chavin route and are treated to fantastic mountain views, waterfalls many small crystal blue mountain lakes and traditional Andean mountain villages. After finish the trek we will be visiting the famous archaeological complex of Chavin de Huantar, South America oldest and most advanced Peruvian cradle of civilization.
1.- Huaraz, Olleros canrey Chico, Tzacracancha 4080m. Overnight.
We leave from Huaraz heading toward Canrey Chico Village at 10,991 ft / 3350m from where we start by an easy trekking pace following an ancient Chavin trail up the wide Uquian Valley gently gaining altitude. During this trek, you will have great views of the snow capped peaks of Shaqsha and Cashan. We will set-up our first camp in Sacracancha at 13,517 ft / 4,080 m.
2.- Tzacracancha, Yanashallash pass 4700m. Shoncopampa 4088m.
We start the day going up to Yanashallash Pass (15,420 ft / 4700 m). On our trek to the pass we are treated with close views of the glacier coming from Uruashraju and some small lakes on the valley floor below. Next we descend to our camp site following a switch back trail to reach our camp site is in shoncopampa Valley 4088m or in Jato which is situated in the Shoncopampa Valley at 12,631 ft / 3850 m.
3.- Shoncopampa, Jato 3700m. Castillo camp 4300m.
We continue our trek along the wild mountain valley with stunning views of magnificent glaciers such as: Uruashraju and Rurec, and where the massive snow covered peak of Huantsan comes into view dominating the skyline. We spend the night in Ingenio or Castilla Camp Site at 14,272 ft / 4350 m. During todays trek, we are passing by small farms. Jato village and Chichucancha typical Andean village
4.- Castillo, portachuelo pass 4850m. Rimarima 4300m.
An early walk to the beautiful Portachuelo Pass at 15,847 ft / 4830 m is really rewarding and soul searching. You will find yourself amidst the tranquil and peaceful nature forgetting the world outside. You will enjoy fabulous views of Uruashraju, Rurec, San Juan and Cayesh Peaks. You´ll then start descending easily through a beautiful valley surrounded by granite Rock Mountains. Our camp site is called Hitacok which is situated in the Rima Rima Valley.
5.- Rimarima, Meza pata pass 4600M. Carhuascancha 4000m.
We leave from our camp site ascending by an undefined path to Mesapata which is a beautiful viewpoint at 15,158 ft / 4620 m. The site has one of the most fabulous vistas of river forest and colorful lakes situated at the base of Huantsan, Tumarinaraju, San Juan and Maparaju Mountains. From here we descend into the Carhuascancha Valley where we find our camp site is located at 12,992 ft / 3960m.
Warmirumi Carhuascancha Valley or Ichic Potrero Lake cross, must be the most beautiful valley in the Conchucos sector mountain range, because it possesses a beautiful forest, very rich in different kinds of local trees, wildflowers (including orchids), bushes, mushrooms, moss and lichens.
6.- Carhuascancha, San Marcos, Chavin, hotel or Huaraz.
We start this day going up to Ichic Potrero Lake or down easily through the beautiful Carhuascancha Valley which driver us to Puente Dos Amores, where our bus will be waiting for us to go back to Huaraz. On the way we visit the Chavin archeological complex, this temple, the largest pre-Inca site that has been restored with its impressive carved stonework and anthropomorphic figures and its labyrinth of underground passages. It is the oldest known pre-Columbian culture (600 - 400 BC) discovered and known as Chavin the Huantar. (PERUVIAN CRADLE OF CIVILIZATION)
7.- This day is optional: Chavin center Archaeological and Chavin Museum, tunnel Cawish, Laguna Querococha - Huaraz.
QUEBRADA CARHUASCANCHA:
This is the most beautiful Vally in the Callejon de Conchucos. You can start from Olleros or Huantar descend S towards the river in the Quebrada Carhuascancha. Cross this river and follow the right bank. To the right of the path is the Laguna Ichicpotrero valley 4100m; to reach the Lake, cross the main river and walk up the right bank of the river leading to the Lake, crossing over shortly before reaching it. Take the main path, then a smaller path climbing in SW towards Laguna Millpo 4350m. Continue in the same direction towards Laguna LLanganuco 4550m. Return to Laguna Millpo, then go W, crossing the river below this lake. Pass between the Laguna Mesapata 4650m. To reach the foot of the Laguna Tumarina 4550m. Further to the S at the foot of Huantsan 6395m follow the main path along the right bank, descending in the valley and visiting Laguna Tumaraganon 4550m. On the left (left bank). From the Quebrada Carhuascancha one can reach the final group of Lakes which are to the Nw. cross the main river and walk up the right bank of a river to Laguna Maparaju 4450m. The last Lake Jacacocha 4550m. is to the N. Retrace your steps and follow the river on your left up to the Lake. The valley of the sixteen Lakes is a magnificent walk, especially if time is taken to visit all the Lakes, each one more lovely than the last allow 8 - 9 days all trek