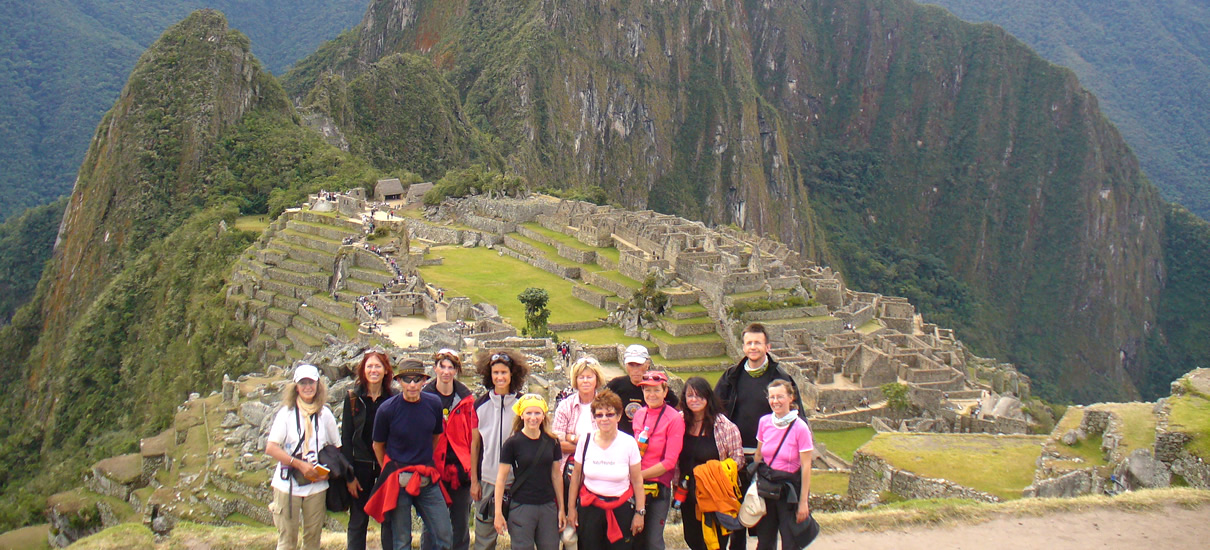 CUZCO
The best, ancient heritage
Welcome to the navel of the world. The undisputed archaeological capital of the Americas, Cuzco is the continent's oldest continuously inhabited city and the gateway to Machu Picchu. Cosmopolitan Cuzco (also Cusco, or Qosq'o in Quechua) thrives with a measure of contradiction. Ornate cathedrals squat over Inca temples, massage hawkers ply the narrow cobblestone passages, a rural Andean woman feeds bottled water to her pet llama while the finest boutiques sell pricey alpaca knits.
Salcantay Tour - Trek to Machu Picchu 5 days / 4 nights.
Ausangate Treks 6 Days / 5 Nights (Cusco).
Choquequirao to Machu picchu treks - 9 days / 8 nights
The origins of Cusco are lost in the dark night of pre-history.
Archaeological excavation reveals that a primitive population already lived in the area around 3 thousand years ago. There is documented information about the cultures of chanapata and Marcavalle. Their constructions even served as bases for Inca temples such as. Qoricancha (The Temple of the Sun).
Would you like to visit Machu Picchu and the Empire of the Incas, Would you like to enjoy the best of what nature has to offer, Would you like to taste exotic foods, Would you like to meet people from around the globe, Would you like to trek through the Inca Trail on a once in a lifetime adventure, Would you like to go Ausangate trek and climb Ausangate mountain, exploring small villages and meeting local people, Would you like to go choquequirao trek with a friendly staff, Would you like to go Mollepata - Salcantay - Santa Teresa and Machu picchu trek that will let you enjoy your trip to its maximum If you answered Yes to any of these questions, then welcome to Peru Amazing Adventures where traveling is a once in a lifetime adventure. Travel with us and you will enjoy the best of what Peru has to offer with the personal attention you are looking for.
You will experience the Nazca Lines, the Colca Canyon, the Titicaca lake the trek to Machu Picchu and so much more. Let us organize your expedition based on your needs or simply pick from the many options we offer or sending a request. Nothing is impossible with Peru Amazing Adventures agency.
Built as a royal estate for the Inca emperor Pachacuti, Machu Picchu is an astounding and perennially Mysterious climax to one of the world most famous journeys: the Inca Trail .Perched high above a sinous bend in the Urubamba River, Machu Picchu has lured, explorers, poets and pilgrims to its mistwreathed ridgetop ever since its discovery by the American explorer Hiram Bingham in july, 1911.
CHOQUEQUIRAO
The Manco Inca dynasty resisted the Spanish conquerors during 40 years (1536 to 1572) from this fortress in the vilcabamba area.
The Spanish conquerors were never able to expel them from it. The building of Choquequirao is the work of Inca Pachacutec successors Tupac Inca Yupamqui (1471 to 1493) and Huayna Capac (1493 to 1527). Household and ceremonial pottery has been found here that bears both the classic Cusco style and also from other populations who came to live here to build and permanently populate the area.
Most likely they were experienced farmers who knew how to build and use farming terraces in high Amazon forest areas. Located at 3050 masl on the border with Department of Apurimac, the Choquequirao Archeological compound was not built to be a place of easy access. Reaching it demands two days of disciplined march, largely compensated by the beauty of the landscape that way farers cross from the beginning of their expedition.
PUNO
The best of Peru lake Titicaca
With a regal plaza, concrete-block buildings and crumbling bricks that blend into the hills, Puno has its share of both grit and cheer. It serves as the jumping-off point for Lake Titicaca and is a convenient stop for those traveling between Cuzco and La Paz. But it may just capture your heart with its own rackety charm.
Puno is known as the folkloric capital of Peru, it calls innumerales cultural expressions remain valid and vitality The jewel is the Titicaca, the highest navigable lake in the world and the legend will attribute civilization the origin of the Inca. But creativity models is even more surprising Puno.
En el lago Titicaca. Las islas flotantes de los uros. Amantani y taquile anapia this island is part of Winaymarca archipelago, south of the lake. Ideal for observation of wild animals.
Amantani y taquile. Islands located north of the lake, noted for its beautiful tegidos. El Taquile textile art is part of the Oral and Intangible Heritage of Humanity.
Sillustani. Archaeological complex containing circular stone towers (chullpas) raised by way of mausoleum.
AREQUIPA
The best colonial cityscape
Other Peruvians joke that you need a different passport to enter Peru's second-largest city. One-tenth the size of Lima, Arequipa is its pugnacious equal in terms of cuisine, historical significance and confident self-awareness.
Along the valley villas are erected buildings and churches retaining baroque style. Outdoor activities, bird watch
Waching and the condor, pre-Inca terraces and a 3200m deep canyon complete their allure.
Cruz del Condor. Andean condor (vultur gryphus) is the largest flying bird in the world and lives in
CLIMB IN AREQUIPA
Volcan Chachani
Is one of the easiest 6000m peaks (Grade F, 3 days) along with El Misti which is in close proximity. The altitude is the biggest concern for climbers. Crampons and an ice axe are the equipment of choice, no rope or other special equipment is need since there is no glacier.
First ascent listed, by Beggar, was in 1889 with a possible pre-columbian ascent due to the presence of archaeological remains near the summit. Less climbed then its neighbor El Misti, Chachani is still a busy mountain.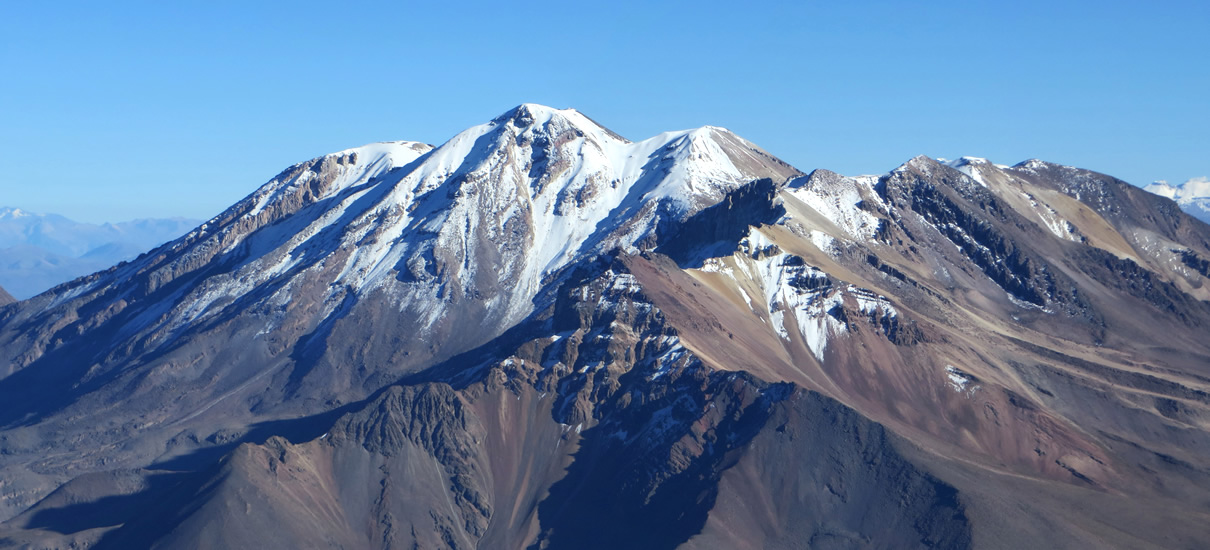 THERE ARE SEVERAL OPTIONS AND ALTERNATIVES.
Volcanoes Mountains Climb
Nevado Coropuna
Nevado Ampato Solimana Chachani
Nevado Hualca Hualca
Volcan Sabancaya
El Misti
Volcan Ubinas
Nevado Pichu Pichu
Nevado Mismi
Huaraz at the foot of the Cordillera Blanca, is an open door to the paths and summits of the Cordilleras; it is also an ideal and lively base.
PERU AMAZING ADVENTURES ADVICE:
- Be sure to take out insurance (repatriation).
- Acclimatize by gaining height slowly, you will not gain any time by going too fas
- Take time over things so you don not forget the essentials.
- Have a good trip and many adventures, the summit and paths are waiting for you.
And last but not least we would like to mention that the success of our trip depends to a large extent on unpredicted events such as weather condition or personal reaction, so an adventurous spirit and good will are essential for the success of the expedition.
NSURANCE
We strongly recommend the purchase of an insurance plan to protect you from the unexpected. Below you will find several insurance resources. We are not experts on travel insurance and therefore ask that you please consult the insurance company with any specific questions. Examples of coverage available for adventure travel are outlined below.
If you choose not to purchase insurance, you assume full responsibility for any expenses incurred in the event of a medical emergency and/or evacuation, as well as for trip cancellation, lost luggage, etc.
Contact us if you need any further information, please.